Relaxing and relaxing island play
Overview of Hotojima
An island floating in the Bungo Channel about 14km from Tsukumi Port, with a circumference of 4km, an area of ​​0.86km, and a population of about 800. Tuna fishing began in the middle of the Meiji era, and even now tuna is landed all over Japan.
Origin of the name
 It is said that the origin of the name of Hotojima is that Emperor Keiko was impressed by the beautiful seaweed and took the first and last names of the name "Hotojima" and became "Hotojima".
Click here for details Hotojima's information site
100 selections of historical and cultural assets of fishing villages that you want to leave in the future
There are few flatlands on the island, and 3-to-4-story houses are crowded together on the slopes from the coast to the mountains, creating a unique landscape reminiscent of the Mediterranean Sea.
 The history, culture and landscape of Hotojima's fishing villages and fishermen have been selected as one of the "100 Best Historical and Cultural Properties of Fishing Villages to Keep in the Future".

Hotojima Summer Festival
The Hotojima Summer Festival (July), which is a summer festival of Kamo Shrine that enshrines the spirit of Kamigamo Shrine in Kyoto, is held for two days and is full of fun such as kagura, catching fish, and fireworks. It is crowded with many islanders and tourists.
Kamo Shrine
Another thunder god (Wakaikazuchi no Kami) was solicited from Kamigamo Shrine in Kyoto as the guardian deity of the island.It is said to be the beginning of the 4th year of Astronomy (1535).

Specialty Hyugadon Oita Gourmet Grand Prix Gold Award for 2 consecutive years
A fisherman's dish designed to help Hotojima fishermen quickly nourish during harsh fishing.It is a bowl of red tuna fillet, mixed with sesame seeds with seasonings such as sesame, soy sauce and sugar, and spices such as green onions, and placed on hot rice.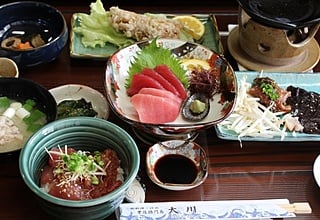 Tuna course meal 
Course meals are recommended for those who want to fully enjoy "tuna".
You can enjoy the delicacies of tuna such as "Hyugadon", teppanyaki steak of tuna heart, and kabuto-yaki with plenty of collagen.Reservations are required for course meals, so please apply by phone.
Homonjima Okawa
1120 Oaza Hotojima, Tsukumi City
Course meal 2,700 yen ~ (reservation required)
70 seats
Telephone 0972-87-2024
Hotojima Tuna Tour

The photo on the left is the option menu "Tuna drop"
It is a dish that can only be made by carefully handling fresh tuna.
Scoop the dropout with a spoon and serve with sashimi, sushi, etc.
Visiting famous places-Hotojima seen in the photo- 
Hotojima Island Okoshi
Hotojima's island revitalization group Homon no Sato
Volunteers from the islanders are working to rejuvenate Hotojima, whose population is declining significantly. We are working to revive the traditional confectionery "Kazumaki", set up a rest area at the summer festival Obon, and provide food and beverages at the stores. In addition, we are actively engaged in marriage activities, such as participating in the cleaning of Mt. Tomi, holding events at Tsuppaku, and so on.
Vicolo Hotojima ~ Knob Eating Alley ~
The island mothers play a central role in holding the "Hotojima Waku Waku Conference", an island revitalization conference. Among them, "Vicolo Hotojima ~ Knob Eating Alley ~" started with the desire to let people know more about the delicious foods on the island. vicolo is an alley in Italian. Mothers wearing a slightly fashionable light blue apron will welcome you!
Access
[Tsukumi-Hotojima route]
 Time required 25 minutes
 ■ Fee Adult one-way 880 yen
Child one way 440 yen
 *Price revision on Reiwa1/10/1
 ■ Inquiries regarding shipping routes
 Tsukumi City Hotojima Route Office
  Telephone 0972-83-5454
 *5 minute walk from JR Tsukumi Station